Are you looking for funky gifts for birthdays, weddings, Valentines Day, Mother's day, Fathers Day,Corporate Gifts, Anniversaries?If you want to give wonderful  funky gifts then have a look at the amazing GreenSmart pots. GreenSmart pots are a self watering system developed during droughts in Melbourne as a means of conserving water and helping people who are short of time or space or skills.
They are a perfect gift for people of all ages and gardening skills.
There is something very special about gardening. It makes us feel good. Of course home grown food tastes better.It's good for the soul and there is growing evidence that contact with micro-organisms is also good for our immune systems. Check out the March/April copy of Organic NZ magazine for an article about the health benefits of getting your hands dirty.
http://www.organicnz.org.nz/magazine/2014
If you are looking for funky gifts for young adults then check out these pots. They are perfect for young flatters who are keen to be able to afford to eat great fresh herbs and vegetables. Maybe they don't know much about gardening? No problem. GreenSmart pots make gardening incredibly easy for inexperienced  gardeners because the plants are able to easily determine how much water they require. Also we supply regular gardening tips for gardeners to gain skills.Here's a sample about growing strawberries. https://growgoodnz.co.nz/strawberry-fields-forever/
The pots can even be shifted when new gardeners shift flats– or maybe back home to mother's cooking again! Maybe one of these pots will be the beginning of a life- long love of gardening.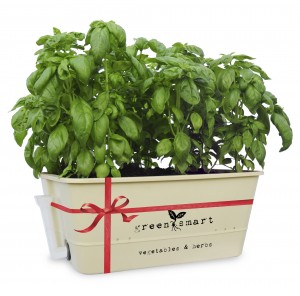 Gift vouchers for funky gifts
Let us know what you have in mind and we will do the rest. You will find gift vouchers on our website with multiple unit values of $20, $50 and $100. Let us know how many vouchers you would like to spend and we will make up your funky gifts to the required value. Just give us the required delivery address. We will even send a card with the pots with your own greetings on it.
https://growgoodnz.co.nz/can-i-get-gift-vouchers/
GreenSmart pots are perfect gifts for older (but not retired) gardeners. We talk with a lot of older folks who have been keen gardeners in the past and love gardening. However, many find it more difficult to do the physical work of digging and bending down to ground level. GreenSmart pots can be raised up off the ground so the older gardener does not have to bend. No digging, no bending, no weeding and very little watering. How simple is that!!
Wedding gifts. What a perfect way to give an unusual gift that will continue to be appreciated throughout the couple's lives.
Funky anniversary gifts – GreenSmart pots are a perfect way for couples of all ages to continue celebrate their growing together.
Why not surprise her/him with a surprise growing gift on Valentine's Day.
These pots also appeal as funky gifts for passionate environmentalists because:
This style of gardening conserves water and fertilisers.
The plastic is all approved by US Food and Drug Administration as being suitable for food contact. They do not contain any recycled  plastic that has potential to contaminate your food.
It is extremely easy for anyone to very quickly grow their own organic foods.
The plastic is resistant to UV degradation.
GreenSmart pots make a great gift for people living in apartments with no "green space" of their own. The pots are simple to re-locate to another apartment too.
If you are stuck for ideas for Xmas gifts then these are ideal.
Funky gifts for foodies too. Most food enthusiasts want to eat fresher and more nutritious vegetables and herbs. GreenSmart pots make a perfect gift for foodies because it is so simple to grow and harvest their own home-grown foods.
Growing gifts – give a couple of these pots already planted out with the recipient's favourite herbs. It only takes three weeks to establish most herbs in GreenSmart pots. The recipient will be amazed to receive a herb garden that is close to being ready to harvest.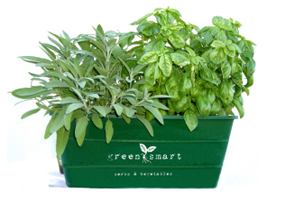 If you are on the look-out for innovative corporate gifts then GreenSmart pots are perfect. They are an ideal way to say thanks to valued customers and employees. Talk to us about how you would like to arrange the delivery of the gifts or gift vouchers.
Other features and benefits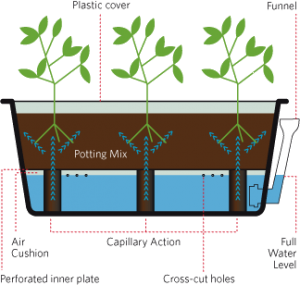 The pot has a water reservoir that harvests and holds 12 litres of water in the larger pot and 8 litres in the smaller pot.
The water level indicator gives a very simple visual check on the water level in the reservoir.
Insects cannot get into the water because of cross hatches on the water overflow points and a hinged lid on the water level indicator.
It is impossible to over water plants.
There is a cushion of air under between the potting mix and water reservoir – this provides aeration to the roots.
The pot has a very simple method for wicking water up out of the reservoir to the roots of the plants. Plants draw water at the rate they require water rather than when the gardener decide or remember to water their plants.
Plants grow faster than in a traditional garden.
GreenSmart pots can be used either inside or outside.
GrowGoodNZ  Ltd is an owner-operated business that strives to give great customer service. Most orders are dispatched within two working days of placing your order. We are always on the lookout for ideas about how to improve our service so appreciate your comments and suggestions.
A message from Jill of Mt Eden, Auckland.
"Last year my mother gave me a GreenSmart pot as a birthday present. What a wonderful gift!! Despite me being a hopeless gardener, I have been able to grow heaps of my own herbs. It is fantastic being able to pick my own fresh, organic herbs all year round. So far I have grown basil, coriander, parsley, chives, dill. The growing tips e mails provide great support too."