Growing Mesclun Introduction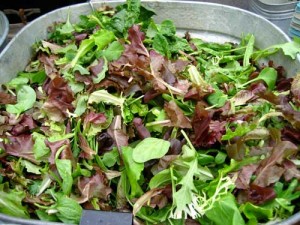 Growing mesclun is simple – mesclun is a great mix of baby salad greens with a combination of flavours, colours and textures. The idea of mesclun was created in the farmers markets of Provence, France in the mid 1970's. Mesclun is made up of a whole range of leafy plants: eg oak leaf lettuce, chervil, spinach, arugula,mizuna and rocket.
A couple of years ago we had three weeks holiday in China. This holiday has made me more convinced than ever about the joy of eating a lot more freshly picked vegetables. In Wuyishan, Fujian Province even the smallest restaurants have a display of about 20 vegetables ready for diners to choose what veges they want to go into their dishes. Back in NZ we don't have a great choice of fast growing vegetables that we can plant in late winter. But we do have mesclun. Sure, you can buy it in a supermarket but mesclun is so simple to grow and you can buy a whole pack of seeds for the same price as one bag of pre-packed mesclun in a supermarket.
Growing Mesclun
Mesclun is a cool weather crop – it grows best in late winter through spring and autumn through early winter. Mesclun likes moist soil, but not soggy conditions. Growing mesclun in a GreenSmartTM  planter is simple. The self watering process means that plants need very little watering and the planter can be positioned in full sun in cooler months and then shifted into semi-shade when the weather gets hotter.
If growing mesclun from seed, simply sprinkle the seeds on the soil surface with about one cm between seeds. Cover the seeds with a light sprinkling of seed raising mix and then gently spray a little on the water, fill the water reservoir and wait for the seeds to germinate. Later thin out the seedlings to 10 cm apart.
If growing mesclun from seedlings, give the plants roots a pre-soaking with diluted seaweed fertiliser for a few hours and then plant them out about 10 cm apart. Some mesclun seedlings are sold with several plants growing together in one 'plug'. It is better to plant them as single plugs than to try and separate them. If the plants roots are tightly intertwined it is difficult to separate them without damaging the roots.

Fertiliser
Mix a good organic fertiliser in with the potting mix. Give the plants a boost after the first harvest by adding some liquid fertiliser directly into the water gauge. Read more about some of this liquid seaweed concentrate from our website
Pests and Diseases
Keep an eye out for slugs and snails.
Harvesting
When the rapidly growing mesclun plants are 10-12 cm long, snip the leaves back to about 3-4 cm above ground level. The plants will re-grow and you will get two or three harvests. The flavours are more intense when the plants are young.
In the Kitchen
Try this simple mesclun salad with vinaigrette.
http://www.epicurious.com/recipes/food/views/mesclun-salad-238922