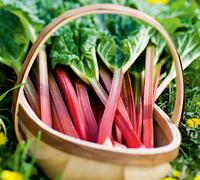 Growing rhubarb in New Zealand RHUBARB RULES.
Introduction.
Growing rhubarb in New Zealand is very easy. Rhubarb is one of a small group of perennial vegetables. Yes–it's a vege not a fruit! It originated in China. More later about the fascinating history of rhubarb.
It grows best in partial shade in a cool to warm climate. New plants can be grown by dividing mature strong disease-free plants with a sharp spade. Plant two per GreenSmart pot TM and cover the crown with 5 cm of soil. They are vigorous growers.  The plants can be left undisturbed for 3-4 years. Lift them and divide again. They can also be grown from seed but is much slower.
Growing Conditions
Growing rhubarb in New Zealand is easy in all areas but they do need plenty of food and water. Remove the flower heads before they open. They are very tough to kill once established.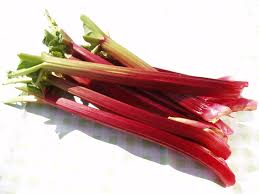 Fertiliser
It's a heavy feeder. Rhubarb is tender, crisp and juicy if fed with plenty of animal manure and mature compost. You can't give too much well decayed manure. Apply a nitrogen fertiliser every 4-5 weeks from early spring to autumn. In winter add more fertiliser around the top layer of soil in preparation for spring growth.
Protects itself from slugs and snails. An additional benefit of growing rhubarb in New Zealand is for Natural Pest Control – boil 1kg of rhubarb leaves in 3 litres of water for 30 minutes. Add a few squirts of liquid soap as a dispersant and dilute by half with more water. Strain and bottle. Spray on vegetables showing signs of aphid infestation.
Companions
Rhubarb seems to grow well with any other plants. I suggest that you plant your GreenSmart pot of rhubarb with a few broccolis. Later the rhubarb will be too big for much else in the pot.
Harvesting
Be patient – wait for 12 months before beginning to harvest. It is best to twist and pull stalks, not cut when they redden. Always leave the young stalks in the centre of the plant. The leaves are poisonous. If flowering stems appear, cut them off at the base to extend the growing period.
https://growgoodnz.co.nz/our-products/ 
In the Kitchen
This is a great website & recipe for rhubarb cake.  Click here to view.
If you want to know more about the history, here is a great website about the history and uses of rhubarb: http://www.rhubarbinfo.com/history
Happy gardening,
Bill.