NZ Indoor Herb Garden Plant Coriander
Introduction
Do you love coriander or hate it? If you want to grow A NZ indoor herb plant then coriander is a good choice. Most people love the pungent smell but there are a few who detest the smell and compare it to squashed bugs. The leaves are also known as Cilantro or Chinese Parsley. It is a staple of many Chinese and Mexican dishes – two of my favourite parts of the world. However it can be tricky to grow so here are some tips for growing them in winter in a NZ indoor herb garden. It has a habit of quickly bolting to seed if the roots get too dry or hot and is fussy about being transplanted too. It is worth checking out more NZ indoor herb garden growing information at www.fragrantgarden.co.nz It is an on-line herb shop.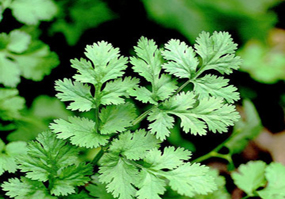 Growing Conditions
If you want to start growing coriander in winter then position your GreenSmartTM pot in a warm place around the house that does not get too much direct sun. Start by soaking seeds in water for 3 days in a warm spot like a hot water cupboard. Then plant at a depth of 6-10 mm with 10 cm between plants. It is worth planting 2 seeds per hole as often you will only get a 50% strike rate. It is a good idea to then plant a succession of seeds every 3 weeks to give continuity. If planting seedlings then choose the smallest but healthiest plants from your garden centre. Gently tease apart the roots without damaging them. Shift your GreenSmart pot outdoors in spring. Choose a place that gets good morning or late afternoon sun but out of the heat of the mid day sun. Avoid wetting the plants when watering. The plants will grow up to 30-60 cm in height. If planting in summer then choose an outdoors spot that won't get too hot. ie catch early morning sun but avoid the midday and afternoon heat.
Fertiliser 
Bury a layer of well rotted manure or a few handfuls of sheep pellets in the potting mix. Blood and bone is good too. Add nitrogen-rich liquid fertiliser directly into the water sight glass.
Pests and Diseases
Coriander has very few serious pests or diseases.
Harvesting your NZ Indoor Herb Garden
Allow for 60-75 days before picking. As long as you can prevent the plants bolting to seed you will be able to keep harvesting leaves for a couple of months. The stems, roots and seeds are all edible. Save the seeds by waiting for flowering then cut off the seed head and dry them in a paper bag for several weeks.
Good luck with your NZ indoor herb garden in a GreenSmart pot!!
Happy gardening,
Bill.